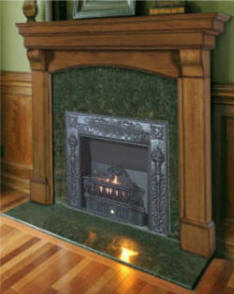 We are pleased you are investing your valuable time with us as you research a potential Coal basket purchase.
Even if you have been told you can never use that fireplace again there may be hope. Read what one customer was able to do as reported in the Greater Glassboro Group news letter!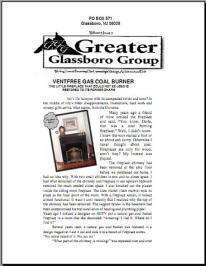 Not all coal baskets you find are the same. As we talk to customers we often find they are surprised at the number of options that are available.
One of the objectives that we had as we developed this web site is to make sure you know what you are buying and how to determine whether it fits your application.
Coal baskets selection and proper application often present some very unique challenges. One of the biggest challenges you will experience is that there are not many local installers who have experience with gas coal baskets. Often our customers become the local experts!
Fireplaces that are being considered for up fitting to gas coal baskets are usually smaller. They often are very old and may have damaged brick or mortar in the firebox as well as in the chimney flue. Flues may not be lined. It is always advisable to have a professional Chimney sweep evaluate your fireplace for the coal basket you are considering.
Vent Free Coal Baskets simulate the effect of a more subtle real coal fire; reminiscent of a simpler more elegant time in our history.
The coals in the basket actually glow as they're warmed by the natural gas or propane burner, the flame pattern is not as wide and the flame height is shorter, requiring much less gas to provide a realistic, appealing effect.
The Coal Baskets were first imported but soon the need for CSA certified gas coal grates for the US and Canadian markets made American production for the Vent Free Coal baskets necessary for this southeastern US based family business.
Searching for antique grates and surrounds to be reproduced exclusively for their Coal Baskets, the company began to put together a product line of decorative, beautiful grates and accessories.
The fireplace has long been regarded as the focal point for any home, and in the late 1800's, coal fires were the height of fashion.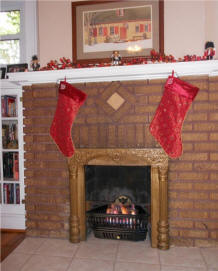 Even when not burning, the decorative cast iron basket still looks great in your fireplace!
Gas coal fires are found in the finest homes in Great Britain, the US and Canada as well as in centuries old Public Houses, Castles and Palaces. They are easy to install and can be taken with you should you decide to move.
You should always consult with a professional licensed contractor to determine the proper application of these products in your specific installation.
You must read and understand the complete installation manual and how it relates to your application before deciding to purchase any of these gas appliances.
VENT FREE COAL BASKETS
Vent Free Coal Baskets have recently evolved to a state of design, function and safety that have made them highly popular for both older homes with pre-existing small coal burning fireplaces or for the new construction market.
Typical Features of the Vent Free Coal Basket are:
Energy efficient - (Heat stays in the home)
Does not require a working chimney
Can be installed in approved vent free fireboxes for new construction
glowing embers
less gas consumption and smaller flame
inexpensive way to create a working Victorian fireplace look in new construction or remodel work where existing chimneys are no longer safe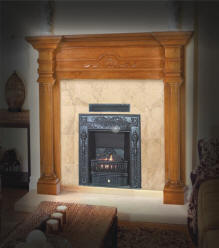 Many options exist allowing you to choose the features you want. You may choose the most economical easy to operate manual control burners or the convenience of remote control - all with the very latest in flame supervision devices and a piezo spark igniter to give instant response.
Not all remote controls are the same. Some remote systems will simply turn the burner on and off provided you have the pilot lit and burning. Some remotes allow you to not only turn the flame on and off but also vary the flame height from the remote.
The most recent technology in remote control is the EIR (electronic ignition remote). This valve and remote system allows you to start and stop the pilot - turn the flame on and off and raise and lower the flame height from the remote control. This can offer significant operating cost savings since the pilot will not be left on all season and flame height and therefore gas consumption can be easily and conveniently controlled to match changing preferences.
Our Ceramic Coals radiate heat from a large surface area. In most of our grates control knobs are concealed by a decorative cover plate. Our burners are available in several sizes and can be used in some cases with an existing grate.
Safety is assured with our CSA certified burners and Zero Clearance Fireboxes.
Coal Burners are available in either Natural Gas or Propane (see specific burner for gas type availability) We offer both vented and vent-free units for new construction as well as for use in existing fireplaces.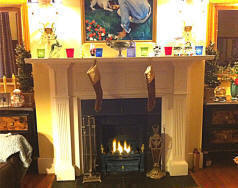 Our CLASSIC style is a simple but elegant coal grate that is an authentic late Nineteenth Century reproduction found in a Georgia Victorian Cottage.
The Coal Basket is made of cast iron with a satin black finish. Don't be fooled by imitators, there is only one Coal Basket with these features, flexibility and appeal of this product. Truly hand built and individually tested one at a time in the hometown known for its southern charm and elegance.
Resolving Problems with your order:
We understand that sometimes a purchase is made that you may find does not meet your specific requirements or expectations.
Please call us immediately if you find there is a problem with your selection or the function of your product. We pledge to work with you anyway we can to resolve a problem.
Most problems can be resolved with out returning the unit. We find returns are rare but they may occur.
If a product must be returned please notify us first for instructions. Please pack in original packing and include all manuals and parts that should be included.
If you are returning a product you may be charged actual shipping charges that we have incurred along with the cost of replacing items that were not returned. A small fee may be charged for inspecting and repacking.
Coal baskets and burners are tested and certified for safe installation by CSA. These tests are performed to very specific criteria. One of the most critical requirements is clearance around the burner and distance to combustible materials around the face of the fireplace opening.
When your installation is inspected by local authorities these dimensions will be checked for compliance. If clearances are not met it could lead to overheating of burner components or electronics of remote controls and would not be covered by warranty. Even worse- You may experience improper combustion resulting in sooting and or CO emission. You may have overheating of surrounding combustible building materials.
You will notice that each coal burner and basket lists minimum fireplace dimensions. The picture below shows how to measure your fireplace.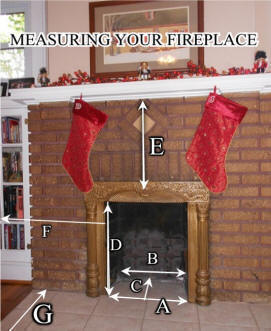 A - Front Width of Fireplace
B - Back Width of Fireplace
C - Front to Back Depth
D - Front height of Fireplace
E - Distance to Combustible above permanent masonry opening.
This last dimension should be made from the actual masonry or steel lintel behind any doors or cast iron surround to the first wood or other combustible material above the fireplace.
If you do not understand how to make these measurements please call us.
CAN I USE MY CAST IRON GRATE? MEASURING AND MODIFICATION OF YOUR EXISTING FIREPLACE GRATE.
We frequently are asked if I can buy only the burner and install it in the cast iron grate that currently is in my coal burning fireplace.
We often do exactly that!
Using your basket can preserve the original look and possibly save you some money.
If you have a hanging basket like the one below you will need to measure the inside dimensions and compare those with the burner dimensions listed for each.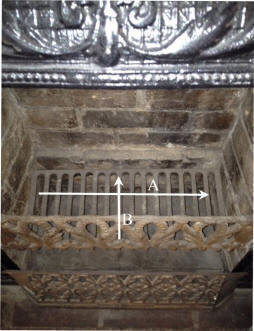 The burner must be slightly smaller so that it will fit down in it. Notice that there is an ember cover below this grate. It will cover the controls that will hang below the basket.
If there is enough room in the basket for the burner you will need to remove it by lifting up and out. You will have to cut part of the grate out of the bottom to allow controls to drop through and hang below the grate.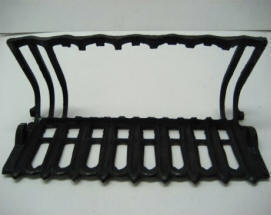 Burner is fitted into grate with gas valve and controls hanging out of the bottom of the grate.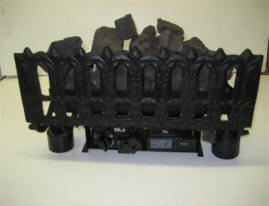 The basket will then be hung back in the fireplace. Note that controls will be visible below the basket. Hopefully you will have the ember cover to set in front of the controls to hide them.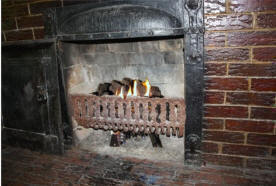 Remember you may find using one of our baskets or fret fronts for reduced clearance (shallow) fireplaces may give you better results and might even be less expensive.